Mix = 10:1
Hempseed Oil with Hash Oil, mix 10:1
10 mil of Hempseed Oil with every 1 mil of hash Oil
Place them both together in a mixing bowl and float that on a pot of boiling water.
simmer, apply gentle heat and stir till well mixed. It wont take very long.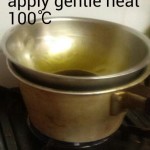 As soon as the Hash Oil is totally mixed into the Hempseed Oil<– STOP…
Take off the heat and pore into a dropper bottle, put the lid on tight and let cool.
That is it, ready to use.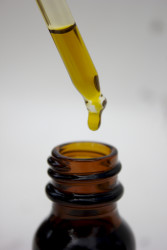 Store in the fridge. Most fridges have a medicine safe.
There are 1,000mg in 1mil. So at the mix of 10:1, every 1mil of the oil infusion will have 100mg of Hash Oil in it.
there are 25 drops in 1mil. So each drop will have 4mg of Hash Oil
Oil infusions are very good for regular daily doses of a long term treatment, because of the long lasting powerful medicinal qualities